News
China "Scouring the World for Meat" as African Swine Fever Impacts Protein Markets
Bloomberg News reported last week that, "Tang Jie, who works on a pig farm, says he used to get pork from the wet market near his home every day. But he hasn't bought any in two months. And his favorite dish, stewed pork ribs with lotus root, has been cut from the menu at his local restaurant.
"'We can barely afford the prices,' Tang, a resident of the southwestern Chinese city of Chengdu, said at a hog conference last month. 'Restaurants are changing the menu, and using less pork because of the high prices.'"
"China's Pork Consumption Risks Collapse as Prices Surge," Bloomberg News (November 4, 2019).
"In south Beijing, small restaurant-owner Yang Yi says he's had to risk losing customers by raising the price of his popular braised pork dish, Hong Shao Rou, by 17% to 68 yuan. He said he can't otherwise absorb the higher cost of the meat, which spiked nearly 70% in September after hog numbers collapsed more than 40% from a year earlier because of African swine fever."
The astonishing surge in pork prices, the staple meat for Chinese people, could yet run many more months and on the way see consumption in the world's biggest market fall by half. The question is whether that demand will ever come back.
The Bloomberg article noted that, "At current prices, the country's pork consumption could fall by 50%, said Cheng Guangyan, director at the farm ministry's Institute of Food and Nutrition Development in Beijing."
Reuters writer Sybille de La Hamaide reported last week that, "African swine fever (ASF) will cut pork output in China, the world's largest producer, by at least 20% in 2019, the United Nations' food agency said on Thursday, doubling the decline it had expected six months ago."
The Reuters article pointed out that, "The World Organisation for Animal Health (OIE) forecast last week that African swine fever would spread further across Asia where it has devastated herds. It said no country is immune from being hit by the deadly animal virus."
Bloomberg writer Tatiana Freitas reported last week that, "The ripples from the outbreak of African swine fever in Asia have reached Brazil's market for offal.
"China, which is boosting meat imports to fill a supply gap after the hog disease decimated half its herd, just approved shipments of swine offal, or organ meats, from seven plants in the South American nation, Brazil Agriculture Minister Tereza Cristina said [on November 4th]. Meat giants JBS SA and BRF SA are among the companies granted with permissions and can start shipments immediately."
"China Approves Brazil Swine-Offal Exports as Pig Fever Rages," by Tatiana Freitas. Bloomberg News (November 4, 2019).
And, Bloomberg writers Tatiana Freitas and Dominic Carey reported on Wednesday that, "Brazil's beef exports reached a record last month on soaring shipments to China, which has been opening doors for foreign meat in the wake of the African swine fever outbreak. More sales may be ahead.
"Brazil Eyes More Permissions to Export Beef to China," by Tatiana Freitas and Dominic Carey. Bloomberg News (November 6, 2019).
"The world's largest beef exporter expects to have more plants allowed to export to the Asian nation after winning approvals for 17 facilities in September, according to Antonio Camardelli, head of the exporter group Abiec."
Meanwhile, Reuters writer Tom Polansek reported last week that, "Smithfield Foods' slaughterhouse in Virginia used to carve up pork for American sandwiches and holiday dinners. But workers now box up pig carcasses to ship to China, according to employees, local officials and industry sources.
"The transformation at the Smithfield, Virginia, plant shows how the global meat industry is adapting to profit from African swine fever, a fatal pig disease that has killed millions of hogs in China and turned the world's top pork consumer into a major meat importer."
USDA_ERS
✔@USDA_ERS
China's demand for imported #pork from the US & other nations continues to accelerate as African Swine Fever spreads. https://go.usa.gov/xpbgx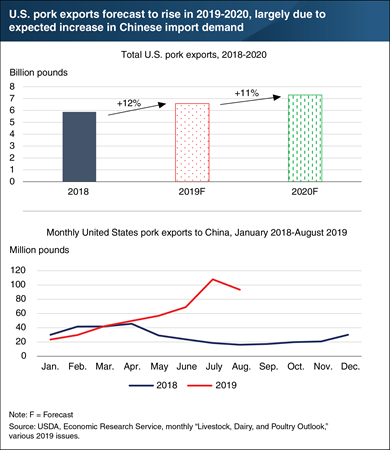 Mr. Polansek noted that, "The outbreak of African swine fever has killed up to half of China's hog herd since August 2018 and pushed prices so high that Chinese importers are willing to pay hefty tariffs that Beijing imposed on U.S. pork as part of the countries' bruising trade war.
U.S. pork producers say China's losses from the disease have created a once-in-a-lifetime opportunity for sales.
"The United States exported 294.5 million kilograms of pork to China between January and August, according to U.S. Census Bureau data, more than in the whole of 2018," the Reuters article said.
Also last week, Financial Times writer Jason Kirby reported that, "China will lift its ban on Canadian pork and beef exports, in a sign that relations between the two countries may be thawing — although experts cautioned not to read too much into the move."
Justin Trudeau
✔@JustinTrudeau
Good news for Canadian farmers today: Canadian pork and beef exports to China will resume. Thanks to Ambassador Barton and the Canadian meat industry for their work on re-opening this important market for our meat producers and their families.
The FT article explained that, "China's decision comes as it grapples with a homegrown pork crisis. The deadly African swine fever hit Chinese pig farms last year and has wiped out as much as half of the country's pig population. Despite increased imports from countries such as the US, Brazil and Argentina pork prices have still almost doubled, while China still faces massive shortages."
And, Reuters writers Hallie Gu and Dominique Patton reported last week that, "China's state-owned agriculture conglomerate COFCO said on Wednesday it had agreed to buy $100 million of pork from European pork producer Danish Crown in 2020 to help ease a domestic pork shortage following a widespread pig disease."
More specifically with respect to future Chinese pork demand, Reuters writer Tom Polansek reported last week that,
Global meat shippers have three years to make the most of the outbreak of a fatal pig disease in China before Chinese pork imports peak, according to a report released by the U.S. pork industry, which is competing for sales against Europe and South America.
"The forecast issued on Wednesday starts a clock ticking for companies to profit from the epidemic of African swine fever (ASF), which has killed up to half of China's hog herd since August 2018 and pushed Chinese pork prices to record highs."
On Friday, Reuters writer Dominique Patton reported that, "China's pork imports will reach record levels of as much as 4.6 million tonnes next year, Dutch financial services firm Rabobank said on Friday, as domestic output falls to a historical low following a devastating disease outbreak.
"China's pork imports are already set to surpass previous records this year, reaching between 3.1 million and 3.3 million tonnes including offal, the bank said in a report, up from 2.1 million tonnes last year."
The Reuters article added that, "Rabobank estimated pork meat imports of between 2.3 million and 2.6 million tonnes next year, or a quarter of global trade, with offal imports of between 1.5 million and 2 million tonnes."
Karen Braun
✔@kannbwx · Nov 5, 2019
U.S. #pork exports to #China in September totaled 44,185 tonnes, the smallest in 3 months but record for the month. YTD exports to China hit 339k tonnes in Sept, up 89% on the year and already 54% larger than in all of 2018.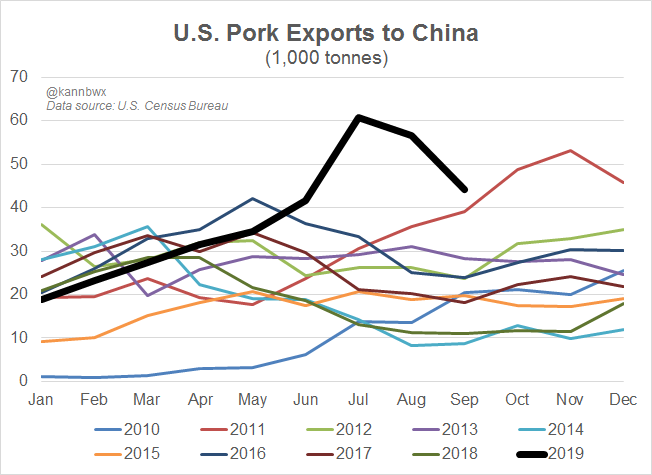 Karen Braun
✔@kannbwx
Total U.S. #pork exports in Sept. reached 202,246 tonnes, easily record high for the month but the smallest volume since February.
YTD exports (Jan-Sep) were 1.9 mmt, topping last year's record by 5%.
YTD to #Mexico total 530kt, down 10% YOY but 3rd largest ever for the period.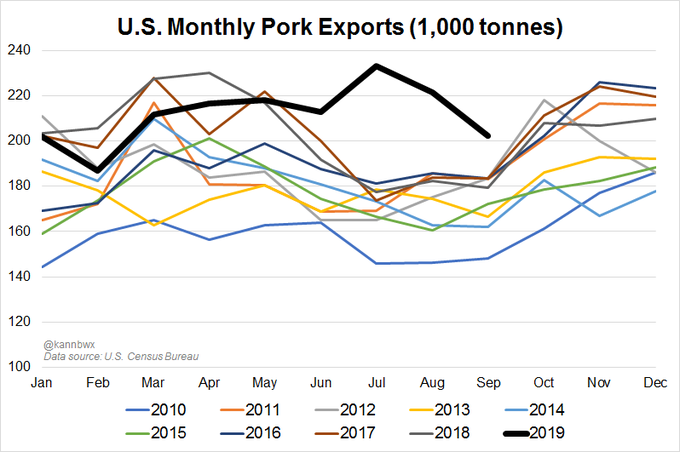 Also Friday, Reuters writer Nigel Hunt reported that, "China is scouring the world for meat to replace the millions of pigs killed by African swine fever (ASF), boosting prices, business and profits for European and South American meatpackers as it re-shapes global markets for pork, beef and chicken.
"The European Union, the world's second largest pork producer after China, has ramped up sales to the Asian giant although it can only fill part of the shortfall caused by ASF. Argentina and Brazil have approved new export plants to meet demand and are selling beef and chickens, as well as pork, to fill the gap. U.S. producers, however, have been hampered due to tariffs imposed by Beijing.
"China reshapes global meat markets as swine fever rages," by Nigel Hunt. Reuters News (November 8, 2019).
"Other Asian countries are also ready to step up imports as they, too, deal with outbreaks of ASF. Vietnam, the Philippines, North and South Korea, Laos, Myanmar and Cambodia are all struggling to contain outbreaks of the disease, which is deadly to pigs although not harmful to humans."
The Reuters article added that, "Hefty tariffs on American pork imposed by China as part of the ongoing trade conflict are likely to mean that the U.S. industry will benefit less than its rivals."
Source: Keith Good, Farm Policy News