News
U.S., China Phase One Trade Deal Progresses, as China Purchases Some U.S. Soybeans
Bloomberg writers Michael Hirtzer and Tatiana Freitas reported last week that, "China is clearing the way for more purchases of American soybeans in an apparent boon for U.S. farmers. There's just one thing getting in the way — cheap Brazilian supplies.
"As Beijing and Washington edge closer to an initial trade resolution, the Asian nation is said to have granted tariff waivers on 10 million metric tons of U.S. soy. But market reaction to the news has been tepid, with futures in Chicago little changed. Lower Brazil prices helps explain the indifference."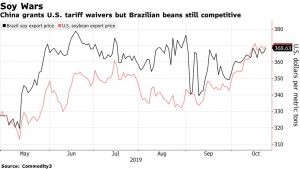 "Cheap Brazil Beans Threaten to Derail China's Return to U.S. Soy," by Michael Hirtzer and Tatiana Freitas. Bloomberg News (October 22, 2019).
"The South American nation won the lion's share of soybean shipments to China during the more than year-long trade war. But with the U.S. and China returning to the negotiating table, Brazilian soybean export premiums have plunged 44% since mid-August," the Bloomberg article said.
Also last week, Reuters writers Kevin Yao and Roxanne Liu reported that, "China will boost imports of certain goods including agricultural, consumer and components products as part of its efforts to stabilize foreign trade, Chinese state television said on Wednesday, citing the cabinet."
And on Thursday, Bloomberg News reported that, "U.S. farmers may return to pre-trade war levels of sales to China in time for the presidential election year, relieving economic pressure on one of Donald Trump's key political constituencies as he campaigns for a second term and fights an impeachment inquiry.
But the bonanza of $40 billion to $50 billion in annual agricultural sales to China that Trump promoted when he announced a tentative partial trade deal on Oct. 11 will almost certainly have to wait until after the presidential vote, if it ever comes. And China's added purchases also come with strings attached.
The Bloomberg article noted that, "China aims to buy at least $20 billion of agricultural products in a year if it signs a partial trade deal with the U.S., and would consider boosting purchases further in future rounds of talks, people familiar with the matter said."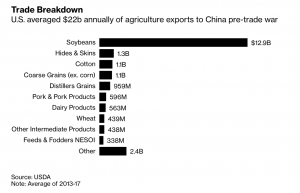 "U.S. Farm Sales to China May Hit Pre-Trade War Level by Election," Bloomberg News (October 24, 2019).
Meanwhile, Reuters writer Mark Weinraub reported late last week that, "Private exporters reported the sale of 264,000 tonnes of U.S. soybeans to China for delivery in the 2019/20 marketing year, the U.S. Agriculture Department said on Thursday, amid hopes for a partial trade deal between the world's two largest economies."
Foreign Ag Service
✔@USDAForeignAg
Private exporters report sales of 264,000 MT of #soybeans for delivery to China during MY 2019/2020. https://www.fas.usda.gov/newsroom/private-exporters-report-sales-activity-china-230 …
Mr. Weinraub pointed out that, "That marked the first U.S. government confirmation of a soybean sale to the top buyer of the oilseed since President Donald Trump said on Oct. 11 that China would buy up to $50 billion in American farm products as part of a trade agreement."
Squawk Box
✔@SquawkCNBC
"For me, this is way bigger than a trade deal. This is a communist Chinese government that doesn't comply with anything," says @SenRickScott. "I don't believe there's ever going to be a deal."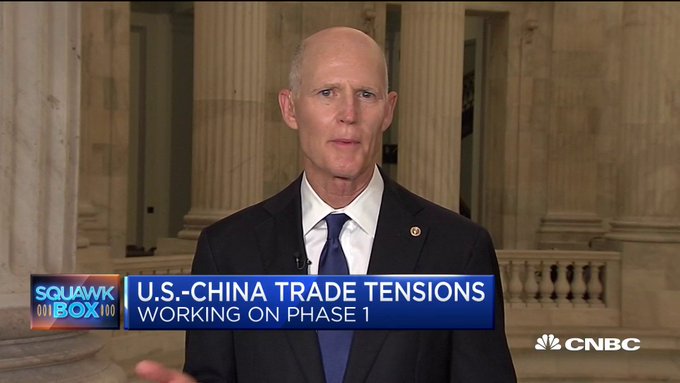 Reuters columnist Karen Braun provided additional context to U.S. agricultural exports to China in a column Friday ("China's alleged offer to buy U.S. farm goods is not a huge win, for now"), where she indicated that, "On Thursday, Bloomberg reported that if a partial trade deal is reached, China was willing to buy at least $20 billion of U.S. farm products in the first year. That is substantially less than the $40 billion to $50 billion that the U.S. side quoted when the latest round of talks wrapped earlier this month."
Ms. Braun explained that, "The highest yearly value of agricultural exports to China not including fish and forestry items was $25.86 billion in 2012, when commodity prices were significantly higher.
"In 2017, soybeans accounted for 63% of the value of U.S. farm exports to China. The actual volume was 31.7 million tonnes, the second-highest after 36.1 million in the previous year. Through August, soy shipments to China in 2019 totaled about 13 million tonnes, valued at $4.5 billion."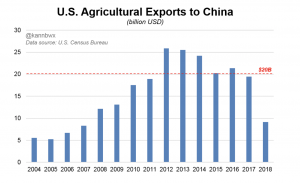 "China's alleged offer to buy U.S. farm goods is not a huge win, for now," by Karen Braun. Reuters Column (October 25, 2019).
Also on Friday, Reuters writers David Lawder and Andrea Shalal reported that, "U.S. and Chinese officials are 'close to finalizing' some parts of a trade agreement after high-level telephone discussions on Friday, the U.S. Trade Representative's office and China's Commerce Ministry said, with talks to continue."
Kayla Tausche
✔@kaylatausche
Readout from @USTradeRep on today's China trade call: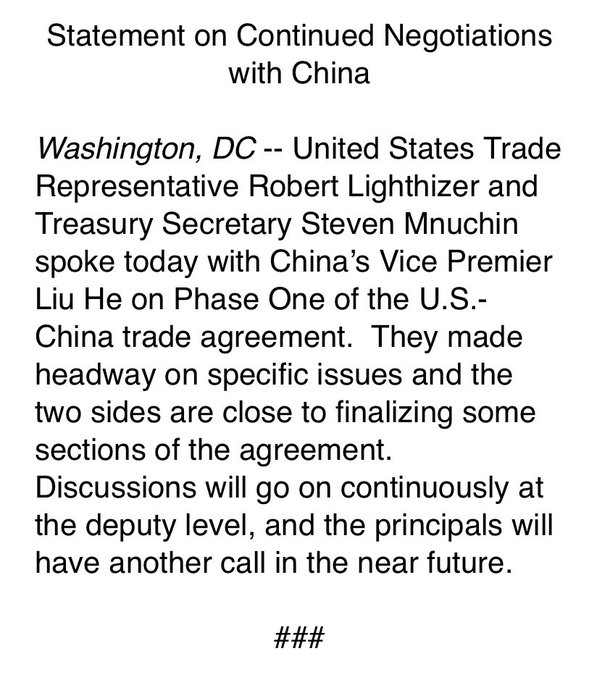 Lawder and Shalal explained that, "Beijing wants the United States to cancel some existing U.S. tariffs on Chinese imports, people briefed on the Friday call told Reuters, in return for pledging to step up its purchases of U.S. commodities like soybeans.
"The United States wants Beijing to commit to buying these products at a specific time and price, while Chinese buyers would like the discretion to buy based on market conditions."
And Bloomberg News reported on Friday that, "China said parts of the text for the first phase of a trade deal with the U.S. are 'basically completed' as the two sides reached a consensus in areas including standards used by agricultural regulators.
"The Saturday comments followed a call Friday with Chinese Vice Premier Liu He, U.S. Trade Representative Robert Lighthizer and Treasury Secretary Steven Mnuchin. The trade negotiators 'agreed to properly resolve their core concerns and confirmed that the technical consultations of some of the text agreement were basically completed,' China's Ministry of Commerce said in a statement on Saturday."
Squawk Box
✔@SquawkCNBC
The U.S. and China are in a "sweet spot" right now to make an agreement, says @RepKevinBrady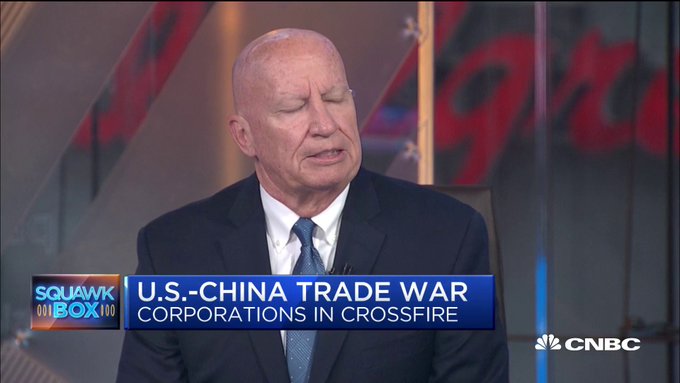 In additional news regarding China and Brazil, Bloomberg News reported on Thursday that, "Brazilian President Jair Bolsonaro met Chinese leaders including Xi Jinping in Beijing, as the Latin American leader looks to balance his tilt toward the U.S.
"At a forum in Beijing on Friday, Bolsonaro said that China and Brazil 'were born to walk together' and the two governments are 'completely aligned in a way that reaches beyond our commercial and business relationship.' At the same event, Vice Premier Hu Chunhua said that China was willing to increase its imports of agricultural and industrial goods from Brazil, and the two nations can also deepen cooperation in areas such as infrastructure."
Brazilian Farmers@Brazilianfarmer
In #Beijing, Brazilian Farmers attended dinner hosted by Chinese President Xi Jinping to #Brazil's President Bolsonaro and the private sector. There were no official speeches during dinner, but it was a moment for the two authorities to chat and get acquainted. #china #trade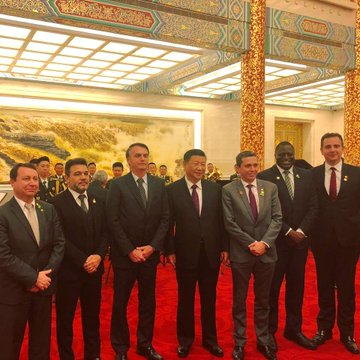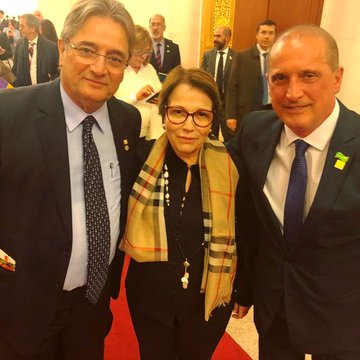 And on Friday, Reuters writers Se Young Lee and Ryan Woo reported that, "China is willing to increase its imports of agricultural and industrial goods from Brazil in order to enhance bilateral trade, Chinese Vice Premier Hu Chunhua said on Friday."
The Reuters article added that, "Brazil is hopeful China will authorize more local meat exporters before Chinese President Xi Jinping visits Brazil next month, as the South American country seeks to position itself as a major food exporter to the world's most populous nation.
"Discussions between a Brazilian delegation to China and local authorities this week also covered demand for Brazilian commodities like sugar, cotton and ethanol."
Source: Keith Good, Farm Policy News