News
USMCA on Course for Ratification in 2020
Natalie Andrews, William Mauldin and Anthony Harrup reported yesterday at The Wall Street Journal Online that, "A new U.S. trade deal with Mexico and Canada gained backing from House Democrats, setting the agreement on course for likely ratification by Congress in 2020 and marking a victory for President Trump after months of negotiations to modify it.
"Mr. Trump ran for office in 2016 on a pledge to remake or blow up the North American Free Trade Agreement, and his administration used a combination of pressure tactics and closed-door negotiations to win support for an amended version of the agreement from Democratic lawmakers, labor unions and Mexican officials.
"On Tuesday, House Speaker Nancy Pelosi (D., Calif.) embraced a version that Democrats had negotiated with the administration just an hour after she backed two articles of impeachment accusing Mr. Trump of abuse of power and obstruction of Congress. That sets up an expected House vote on the trade deal next week, before a likely divisive election year in 2020."
The Journal article indicated that, "'We are so proud of the distance that we have come from where we started with the administration on this legislation,' Mrs. Pelosi said of the new U.S.-Mexico-Canada Agreement, or USMCA. 'This victory for America's workers is one we take great pride in advancing.'
"Later in Mexico City, the revised USMCA was signed by U.S. trade representative Robert Lighthizer, Canadian Deputy Prime Minister Chrystia Freeland and Mexico's undersecretary for North America, Jesús Seade."

In Mexico City, US, Mexican and Canadian officials signed revised USMCA trade agreement.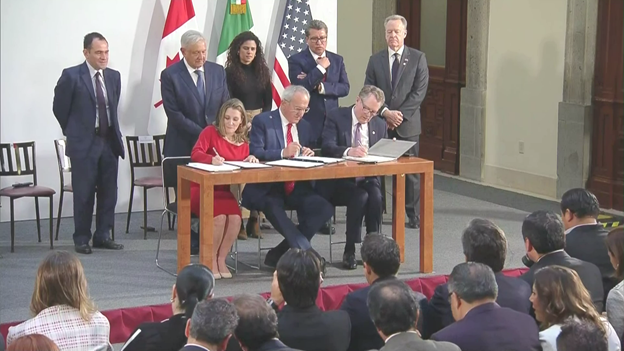 "Mexico approved the original USMCA in 2018, but the changes worked out with Democrats still require ratification by all three countries. The proposed amendments have the support of most Mexican senators, said Senate Majority Leader Ricardo Monreal, who is a member of President Andrés Manuel López Obrador's Morena party," the Journal article said.
Canada and Mexico in 2018 were the two biggest buyers of U.S. farm goods. (USDA- Foreign Agricultural Service).
James Politi and Jude Webber reported yesterday at The Financial Times Online that, "Congressional ratification of USMCA has been among the highest legislative priorities for Mr Trump, although its prospects were uncertain until this week. The move towards a green light on Capitol Hill will be touted as a big win for the White House heading into the 2020 presidential campaign, and evidence that Mr Trump's disruptive approach to trade is delivering results at a time of heightened commercial tensions with China and the EU."
Most importantly, it removes the threat that Mr Trump could withdraw the US from the exiting Nafta trade agreement, which had been hanging over North American business and its integrated supply chains ever since he took office in 2017.
Meanwhile, New York Times writers Emily Cochrane and Ana Swanson reported yesterday that, "The agreement came as a huge relief to industries that have grown up around NAFTA and rely on tariff-free trade across Canada, Mexico and the United States. The lack of movement in Congress, combined with Mr. Trump's threats to walk away from the original NAFTA pact, had created crippling uncertainty among businesses."

Donald J. Trump✔@realDonaldTrump
America's great USMCA Trade Bill is looking good. It will be the best and most important trade deal ever made by the USA. Good for everybody – Farmers, Manufacturers, Energy, Unions – tremendous support. Importantly, we will finally end our Country's worst Trade Deal, NAFTA!
Reuters writers Sharay Angulo and Andrea Shalal reported yesterday that, "The U.S.-Mexico-Canada Agreement (USMCA) was signed more than a year ago to replace NAFTA, but Democrats controlling the U.S. House of Representatives insisted on major changes to labor and environmental enforcement before bringing it to a vote.
"The delay at times threatened to scuttle the deal, creating investment uncertainty in all three countries and worrying U.S. farmers already suffering tariffs stemming from Trump's trade war with China."
It is important to remember at this point that this is a major trade disaster averted both from an economy wide and ag perspective https://twitter.com/FarmPolicy/status/1204417595207770112 …
White House Plans to Sign Trade Deal Changes With Mexico, Canada https://www.bloomberg.com/news/articles/
2019-12-09/pelosi-white-house-near-handshake-deal-on-new-nafta-agreement …
More narrowly with respect to agriculture, Jacob Bunge reported yesterday at The Wall Street Journal Online that,
The USMCA is expected to increase annual U.S. agricultural and food exports by $2.2 billion, or 1.1%, according to the U.S. International Trade Commission. That comes from small increases of U.S. dairy, poultry, wheat and alcohol exports to Canada. More sugar and products with sugar would come to the U.S. from Canada.
"For U.S. farmers, and agribusinesses such as Cargill Inc., Archer Daniels Midland Co. and Tyson Foods Inc., completing USMCA became more urgent as the U.S. trade battle with China deepened over the past year. Mexico and Canada in 2018 were the two biggest buyers of U.S. farm goods, representing $40 billion in sales, as shipments to China fell by more than half."
Canada and Mexico in 2018 were the two biggest buyers of U.S. farm goods. (USDA- Foreign Agricultural Service).
Mr. Bunge noted that, "Nick Giordano, head of government affairs for the National Pork Producers Council, said completing the USMCA would help hog farmers recover after Mexico's retaliatory tariffs trimmed an average of $12 from the price of each hog sold in the U.S. in 2018.
"Hog farmer Trent Thiele in 2018 delayed expanding his operation near Elma, Iowa, after Mexico levied tariffs on U.S. pork, in response to U.S. tariffs on Mexican steel and aluminum. After the three countries agreed to the USMCA later that year, Mr. Thiele moved ahead, investing about $1.5 million in new barns that will allow him to raise 12,000 more hogs.
"'We can't eat all of our pork domestically, so it's a big deal to us to have these markets available and these trade agreements signed,' Mr. Thiele said. 'We need to at least get one of these taken care of.'"


What's in the New #USMCA #Trade Deal https://www.wsj.com/articles/whats-in-the-new-usmca-trade-deal-11575998455?mod=searchresults&page=1&pos=1 …#Agriculture

Looking ahead, Bloomberg writer Erik Wasson reported yesterday that, "The timing will prove more difficult in the Republican-led Senate, according to Majority Leader Mitch McConnell. He told reporters Tuesday that the Senate won't take up the USMCA until after it finishes with the impeachment trial next year.
"'We will not be doing USMCA next week in the Senate,' McConnell said Tuesday.
"White House Press Secretary Stephanie Grisham later said in a statement it is 'long overdue for Congress to take up the USMCA.' U.S. Trade Representative Robert Lighthizer also told senators earlier Tuesday that the Trump administration wants a vote by next week."
The Bloomberg article stated that, "Pelosi later told reporters she hopes for a vote 'before the end of the session,' which would be before Congress recesses for the holidays on Dec. 20."
Source: Keith Good, Farm Policy News